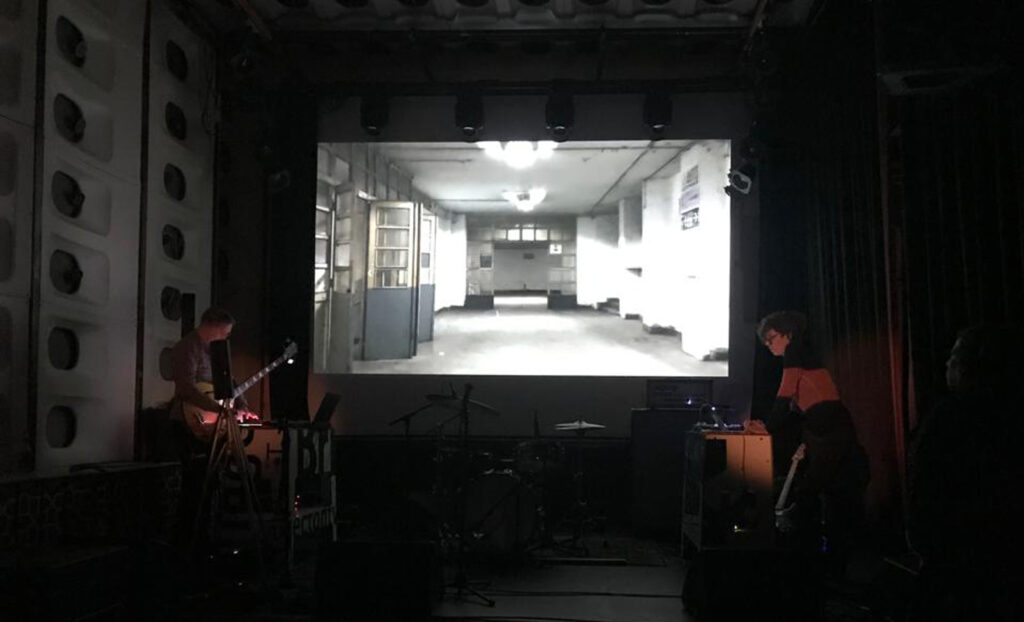 Crumbs of rock, architectural fragments and parts of machinery are entangled with the movement of human bodies, progressing and floating through deserted urban and digital landscapes. Inspired by sketches and ideas for time machines and by the style of the Futurist movement, Knots is an experimental dance film that deals with transformation, flexibility of time and material mass in the midst of an empty void. On occasion temporary conglomerates occur and then again dissolve into parts. Dancing figures move forward and backward in between locations and situations. Video quotes relating to human connectivity, commercialism and the mundane, as well as references to recent sociopolitical events are intertwined with the imagery.
Knots as a project was initially initiated as a collaboration in times of Covid. The idea was communicated with drawings, pictures, text and music pieces by Dirk Bruinsma. Dealing with entanglements and barriers.
The trigger-material was sent from Rotterdam to Belgrade. Once in Belgrade video was shot with the choreographies and improvisation by the dancers Ana Obradović, Jovana Grujić and Nemanja Bošković. The camera work by Jovana Milovanović and Marko Segedinčev was then again sent back to Rotterdam and has undergone a CGI and editing treatment which has resulted in the final Knots film. As to now, Bruinsma and Shalem offer this work as a live performance. An ever expanding work around a rigid backbone of five chapters. 
The audiovisual performance of about 30 minutes (variable duration) features Bruinsma on bass and electronics while Shalem uses a VJ' set, mixing loops of video. The five division is based on five different surroundings and five sub-compositions. The idea behind the performance is to enable relational- momentums and departures or 'knotting' and dissolving. This happens with both the music and the image, which at occasion are synchronized and then again go parallel or contrast each other. These dynamics emphasize a stretching and compressing of the components, shifting through densities and air. We travel in between the abstract and the defined, in a flow bouncing and passing chunks and extremities. 

Audiovisual live / Screened:
22/11/22 WORM, Rotterdam
23/02/23 at Splendor, Amsterdam (with Monoták)
25/03/23 Sunny Side Up evening, R'dam
25/05/23 Kino Klub, Split, Croatia